General Information
Ghana is situated on the Gulf of Guinea, neighbouring Ivory Coast, Togo and Burkina Faso. It has a total area of 239,500 km² and a population of 20.1 million (2002 data). The country is ranking 129th out of 175 countries in the 2003 United Nations Human Development index. While in 2002 it had a per capita income of US$270, it now has a per capita income of US$434 (according to Growth and Poverty Reduction Strategy Draft report 2006-2009). Ghana's economy has remained structurally rigid, depending largely on exports of primary commodities such as gold, cocoa, bauxite and timber.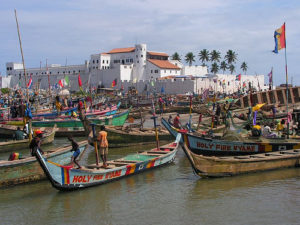 The country has undergone average annual growth rates of 4.2 % between 1991 and 2002 and an estimated 6% for 2005. Agriculture, services and industry provided 35%, 40% and 25% of GDP respectively. The annual economic growth rate stood at 5.8 % in 2005, after 4.0% in 2001 (World Bank data). Population growth is estimated at a comparatively low 1.6 % per year in 2002. About 40% of the population was estimated to be living below the poverty line of 1 US$/day over the 1983-2000 period (UNDP data).
The Environment
Ghana is divided into three main vegetation zones which run approximately parallel to the equator, a phenomenon largely attributed to climatic factors, notably rainfall and temperature. The High Forest zone, in the southern zone of Ghana, consists of forests ranging from wet evergreen to dry semi-desiduous. It is the region with the highest precipitation in the country, where rainfall may even reach 2300 mm in the wettest parts (wet evergreen zone). The High Forest Zone falls within the Biodiversity Hotspot of the 
Guinean forests of West Africa
, one of the 36 most important biodiversity areas in the world. The Savannah region, the driest area of Ghana, covers approximately two thirds of the country. The third zone is the transition zone, between the Hight Forest Zone and the Savannah Zone. In addition, the extensive coastal area of Ghana hosts a variety of wetlands.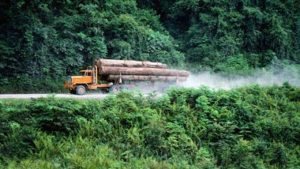 The key pressure to high forest areas in Ghana, as in most tropical Africa, is commercial logging undertaken by international companies that are given concession permits. Logging is one of the key export activities in Ghana; actually Ghana is one of the top world exporters of veneer and tropical sawnwood. Though commercial logging in Ghana is mainly selective, the activity leads to the depletion of certain tree species, while creating significant damage to remaining stands. Furthermore, the opening of logging roads often has many secondary impacts, such as the accessibility of previously inaccesible areas. Other pressures in Ghana's forest resources are mining, agricultural encroachment, bush fires and poaching.
Protected Areas
There are two main categories of protected areas in Ghana: forest reserves and wildlife reserves.
The forest reserves, managed by the Forest Services Division, are forest areas where controlled extractive activities such as logging are permitted. However, in the last years, the Forestry Services Division has re-designated 29 of the forest resources as Globally Significant Biodiversity Areas. These areas have been found to have a high concentration of biological resources that are of global conservation importance. Since their re-designation, logging and other extractive activities are prohibited in the GSBAs.
The wildlife reserves, managed by the Wildlife Division, are clearly aimed at biodiversity conservation; access and use of the natural resources is limited. The wildlife reserves are divided into National parks, strict nature reserves, resources reserves, wildlife sanctuaries and Wetlands of International Importance (Ramsar sites). To see a map of Ghana's wildlife reserves, click here. 
National parks:
Mole National Park : 4,840 km2 undulating terrain with steep scarps. Pristine Guinea savanna vegetation with gallery forests along the rivers and streams. Over 90 mammal species including elephants, buffalo, roan, kob, hartebeest, 4 primate species and over 300 bird species.
Kakum National Park & Assin Attandanso Resource Reserve : They cover an area of about 350 km2 of the moist evergreen forest zone. The emergent trees are exceptionally high with some reaching 65 meters. The reserve has a varied 40 wildlife species of larger mammals, 200 bird species and over 400 species of butterflies.
Digya National Park : 3,478 km2 of undulating terrain with sandstone inselbergs situated on the western shores of the Volta Lake. Guinea savanna woodland predominates with gallery forest along the major lines.
Bui National Park: 1,821km², bisected by the Black Volta .Typical woodland savanna zone. It has spectacular gallery forests along rivers course sand noted for its resident Hippo population in the Black Volta.
Bia National Park & Resource reserve / biosphere reserve: The Bia National Park and Bia Resource Reserve constitute a twin conservation area covering a total area of 305.62km² in the transitional zone between moist-evergreen and moist semi-deciduous forest types. It is the only Biosphere Reserve in Ghana.
Nini Suhien National Park & Ankasa Resource Reserve: Located in the wet evergreen forest area of the Western Region of Ghana. Most probably the area with the highest biodiversity in Ghana.
Kyabobo National Park: 359.8 km² , found in the Dry semi-deciduous forest zone and has both forest and savanna species of plants and animals.
Strict Nature Reserve: Kogyae
Resource Reserves: Kalakpa Ankasa (Nini-Suhien NP), Shai Hills, Assin Attandanso (Kakum NP), Bia (Bia NP), Gbele
Wildlife Sanctuaries: Owabi, Agumatsa, Boaben-Fiema, Tafi Atome, Bomfobiri.
Ramsar sites (coastal wetlands): Anlo-Keta lagoon complex, Muni-Pomadze Lagoon, Sakumo Lagoon, Songor Lagoon.