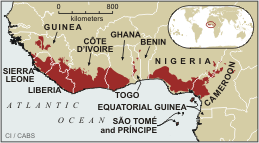 Microsfere's two projects are being implemented in West Africa, in the country of Ghana. Ghana was chosen as an implementation area due to its high biological diversity, as evidenced by the fact that the southern area of the country is part of the Guinean Forests of West Africa Biodiversity Hotspot, i.e., one of the 34 most important regions in the world in terms of biodiversity. Also, microcredit institutions are relatively developed in the area. In addition, a key parameter for the geographical choices of Microsfere is the existence of national partners who endorse the Microsfere objectives and methodology, and are willing to set up long-lasting partnerships in order to achieve common goals.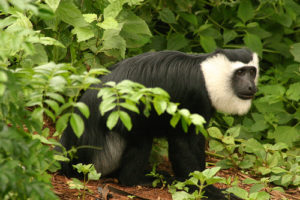 The Kakum National Park is a relic of the significantly degraded evergreen tropical rainforest of the West Coast of Africa, hosting an abundant variety of species, including some 400 species of butterflies, some 266 bird species, as well as flagship species such as forest elephants. It was gazetted as a national park in 1992.

The Amansuri wetland is a community protected area that was created through a collaborative partnership between the Ghana Wildlife Society and the chiefs and people of the Western Nzema Traditional Area.