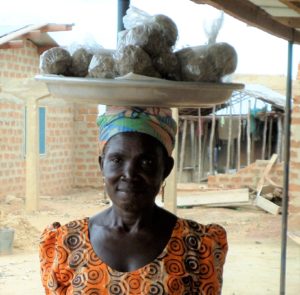 Adua
Adua, is a prolific micro-entrepreneur, involved in a number of economic activities, and we are proud to say that Microsfere is her partner. She is involved in petty trading, grasscutter rearing, soap making, snail rearing… and her eagerness to learn is still there!
Back in 2008 she started like most other participants with her involvement in the Microsfere microfinance project as a petty trader for general goods.
In 2010 she was among those that took part in the first training for soap making, and she further improved upon her skills by learning additional soap making techniques during a visit to a distant community. In fact, her soap making skills have allowed her to not only develop this business, but also to work occasionally as a trainer for other women who want to learn how to make soap.
In addition to soap making, she learned some basic skills for snail rearing through the radio and set up a small unit. In 2013 she also participated in Microsfere's training sessions for grasscutter rearing. She has now built a 9-cage pen for grasscutters and has applied for a loan in order to buy the breeding stock.
When asked what is the main challenge she encounters in her business, she told us that many clients buy soap on credit; she thus has to spend quite some time going back to them to collect her money.
Adua told us that the soap making business has brought her many benefits, the main ones being that she can cover her chirdlen's secondary education expenses and that she now has enough resources to build a shed to host her business. We wish her all the best in her future ventures!