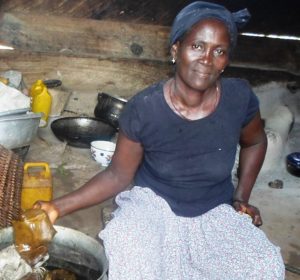 Cecilia
Cecilia, 53 years, lives in the village of Afiaso. She is a widow, and has three children all of which are of working age and have their own economic activities. Cecilia has two main occupations. She is a cocoa farmer and also a petty trader. Cocoa farming was initially her main occupation, but because this is a seasonal activity, she was having difficulties getting income throughout the year. This is why she decided to start selling items such as footwear, sewing materials, cloths, etc. She also grows foodcrops, but they are for her familly's consumption, and not for trading.
When she joined the Microsfere project she was already involved in those two activities, but was having difficulties with the maintenance of the cocoa farm and also difficulties with her trading business because her stock was too small. She has participated so far to three loan cycles, which have allowed her to hire labour to weed her cocoa farm and also to purchase larger stocks for her petty trading business.
Cecilia tells us that her participation in the Microsfere project has helped her improve her standards of living:  before, she was struggling to have the required resources to support herself and her familly outside the « cocoa season » (the cocoa season is the period between September to January, when cocoa is being collected and sold).  Now, she no longer has this financial stress, since her trading business allows her to have revenues all year-round. She has also managed to make savings, and with them she will re-build her house, since the building she was living in recently collapsed.