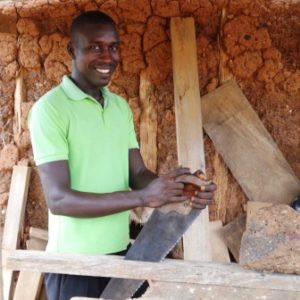 Jacob
Ms. Monica Ennor, 35 years old, lives with her husband and their 3 children in the village of Kengen in the Amanzuri wetland. Her husband sells sachets of water, while she currently runs a small store with foodstuffs.
She used to be a fishmonger, but stopped this activity a few years ago because the smoke from the fish smoking was damaging her eyes. Also, according to her, fishmongering is really a seasonal activity, whereas the operation of a store is a year-long activity, and thus she finds it more convenient.
Thanks to the loan she received from Microsfere she managed to significantly increase and diversity the stock of her store. She has been using her loans to buy goods such as rice and sugar, mainly, but also biscuits, soft drinks and other goods that are in high demand. In addition to increasing her stock, she claims that the Microsfere project has helped her to increase her savings because the interest rate charged for the loan is low. She is thus able to do regular savings with which she can pay the school fees of the children without much difficulty.
Monica participated in the business training that was given by Microsfere two years ago, and she really appreciated it as it helped her to better chose what kinds of products to sell depending on the season. She wishes though that this type of training could be repeated more regularly.