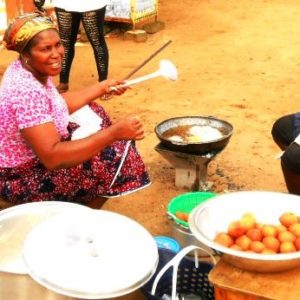 Lydia
Lydia, a 44-year old mother of 4, lives in the village of Kengen. She is the sole person responsible for the revenues of the household because her husband, who used to be a small bus driver, is sick and cannot work anymore.
In order to meet the needs of the family, she sells fresh fish, homemade donuts called Bofoloto and runs a small convenience store.
Initially shed joined the Microsfere project as a fishmonger, but had to stop this activity because of health issues: she had eye problems and the doctor told her that the smoke from the fish smoking activity could further enhance the problem.
She now uses the Microsfere microcredit to buy provisions for her store and ingredients for the preparation of the Bofoloto. The fresh fish business is seasonal, so she uses her profits from the store and the Bofoloto sales to buy fish whenever the fishermen have a good catch.
Lydia had not participated at the business training provided by Microsfere three years ago, because she joined the project later. She thus says that she is not able to calculate her profits from each activity.
However, the savings she manages to make are an indicator for her of the success of her businesses. Thanks to the project, she understood the importance of savings. Her plans are to further extend her store business and to continue supporting her children's education.