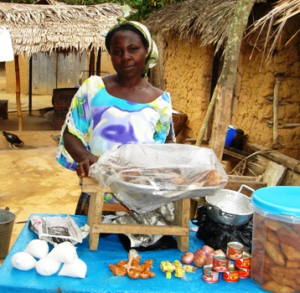 Patricia
Patricia works and lives in the village of Antwikwaa, one of the communities neighboring Kakum National Park. She is a member of the Antwikwaa Traders' Group, which is called « Nyame Na Aye » and has 22 members. This group, which consists mainly of women, was among the first to complete the reimbursement of its collective loan. 
Microsfere
: Which economic activity are you engaged in? 
Patricia: Palm fruit processing and sale of smoked fish, fried fish as well as tomatoes and garden eggs. 
M: How much money did you receive as loan from the Microsfere project in the first cycle?
P: 200 Ghana cedis (100 euros) 
M: What benefit did you derive from the microcredit you received? 
P: Many benefits. I have been able to increase my sales and have revenues to pay off my children's school fees and also to provide some basic meals for my home. 
M: What benefit can you specifically say the Microsfere Project has brought to you and the protection of the National Park? 
P: Because of the project, I am now very busy selling and have no time or need to look for snails, mushroom and herbs from the National Park. (NOTE: the collection of non-timber products is illegal within the park boundaries) 
M: What preparations have you made to receive the second batch of microcredit? 
P: I have made contacts with my suppliers to provide me with the raw materials as soon as I have received the second microcredit.