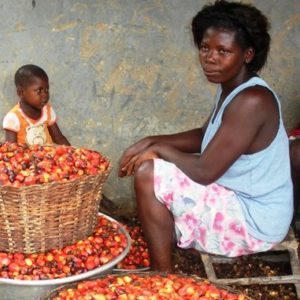 Sarah
Sarah lives in the village of Adianom which is her birth place. Adianom is in the northern part of the Kakum National Park, and access to it is through a difficult dirt road.
Sarah did not participate in the first cycle of the Microsfere project, as she was not interested. However, after hearing that her friends who did participate managed to make good profits, she decided to join a newly formed group.
Her group consists of 9 members, all of which are women and all of which are into small-scale trade (palm oil, smoked fish, cooked dishes, provisions store). As a new group, each member received a loan of 150 GHC (about 75 euro).
Sarah invested her loan for the production of yam and tomatoes, the frying of fish, as well as the purchase of palm fruits to process them into palm oil. She sells all of those items in the local market.
Eager to improve upon her business skills, she participated to the business training offered by Microsfere at the end of 2010. This training focused on the following modules: 1) Entrepreneurship & business plan development; 2) Effective communication; 3) Effective time & resources management; 4) Savings & increasing business profit; 5) Proper record keeping; 6) Good customer care & marketing skills; 7) Business diversification & investment opportunities;8) Cost-benefit analysis; 9) Difference between revenue & profit; and 10)Prudent/effective credit management.
She says that she now knows how to calculate her profits and how to follow the 40/40/20 rule for her profits (40% investment, 40% savings, 20% spending). In addition, the training helped her understand the importance of good customer care and helped her build her confidence as a seller.