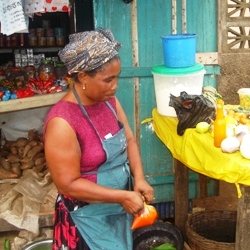 Beatrice
Beatrice moved to the village of Beyin in the Amansuri wetland from another nearby village 8 years ago because her husband found a job as a driver. Unfortunately her husband fell ill and now she is the only one who provides financially for him and their 5 children, all of which are of school age. 
She has set up a provisions store that sells small household items and food stuffs, including fresh vegetables. So far she has participated to one loan cycle, during which she got a microcredit of 200 GHC (about 100 €) and used it to purchase vegetables such as eggplants, peppers and okro to sell. She has not though been able to calculate the profit she made from the sale of those vegetables. 
She indicated to us that given the right opportunities, she would like to start a second business which would be to buy groundnut and maize in big quantities and sell it to retailers in small quantities. According to her, all the people from her village who participate in the Microsfere project "have a better life than before": they can cover their children's' school fees and also they can afford at least three meals per day, even if not to their full satisfaction. That's why, in order to further improve her financial situation, Beatrice decided to participate to the second loan cycle and received 250 GHC (about 130 €).