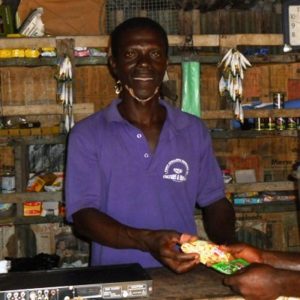 Stephen
Stephen, 32 years and father of 3 children of school age, lives in the village of Beyin in the Amanzuri wetland. He is the owner of a small shop selling household items and foodstuff that he purchased 5 years ago and that he operates with the help of his wife. Recently he was also hired as a tour guide in the newly renovated Fort Apollonia.
He has participated so far to two loan cycles in order to boost his trade business and buy additional products. In the first cycle he received a loan of 150 GHC (75 euro) and in the second 250 GHC (125 euro). He claims that though the two cycles have allowed him to diversify his goods and increase his profits, he would like to continue participating to the project until his loan reaches 1000 GHC (500 euro); having such a capital would allow him to shift from retailer to wholesaler.
Stephen is the secretary of the solidarity group called "Yesu Adom", which has 11 members, both men and women, all of which are into store keeping or small-scale street commerce.
In terms of protection of the natural resources, he proudly claims that thanks to the project he learned the importance of the forest ecosystems; he no longer goes into the wetland to cut raffia palm sticks in order to repair his shop and house.
Stephen also recently participated to the business training provided by Microsfere. He found it very helpful since it allowed him to understand how to use the business money, but indicates that he would liked the training to be repeated regularly and to be more practical.